My past and current projects focus upon the use of tangible, tabletop and large surface interaction in the application domains of urban planning, collaborative problem solving, education, and decision-making. Here are some of my current and past projects.
2022-2025: FNR CORE ReSurf
The ReSurf project (Remote Collaboration Across Interactive Surfaces with Awareness Cues) is funded by the FNR under the CORE program and runs from 1.3.2022 until 28.2.2025. The project aims to explore and study how mutual awareness can be enhanced for a team that meets remotely with two wall-displays and jointly analyses data to take decisions. The idea is to design technological mediated cues that make the non-verbal communication (body posture, hand gestures and gaze) of a remote team accessible over distance, and visualise them, for instance, through pointers or annotations on the screens.
More information: https://www.list.lu/en/research/project/resurf/
Funded by: FNR CORE ReSurf (2022-2025).
2018-2022: FNR CORE ORBIT
The FNR CORE ORBIT project (Overcoming breakdowns in Teams on Interactive Tabletops) aims at supporting adults in developing collaboration methods through new types of problem solving activities implemented on a tangible tabletop interface. These activities allow users to experience collaboration by jointly solving a problem and to cope with computer generated challenges on the way to solve the problem.
The application developed (called Orbitia) requires three users to plan a route, and steer a rover to find and collect minerals on an unknown planet while overcoming a series of limitations. To solve the task, they need to build a shared understanding and coordinate themselves.
More information: https://www.orbit.team/
Funded by: FNR CORE ORBIT (2018-2021).
2016-2020: Kniwwelino
Kniwwelino® is a technology-rich creative environment to learn coding and electronics. It contains a circuit board based on the Arduino® and Wi-Fi™ technologies and a block based visual programming interface. Kniwwelino was developed to provide a creative and hand-on approach to programming and electronics. We wanted to develop a new approach for fostering computational thinking, which is attractive and interesting to children, while being accessible and easy to use.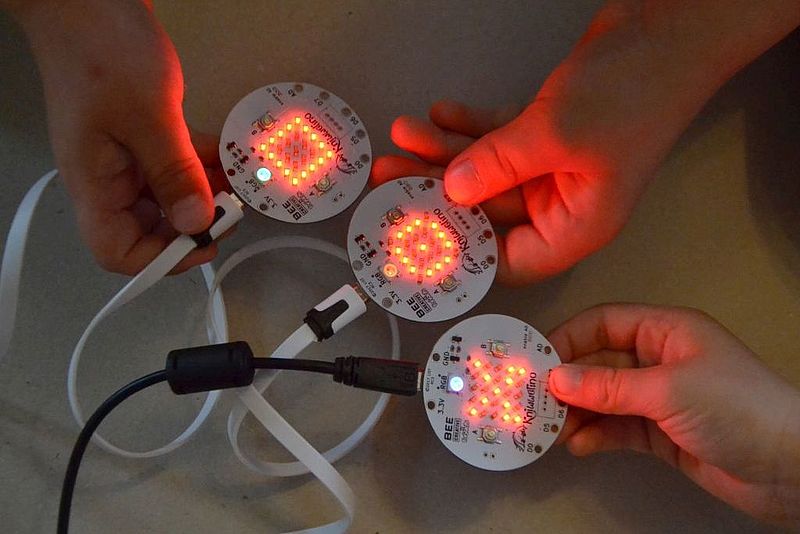 We tested Kniwwelino with more than 2000 children within the scope of workshops organized at different fairs and are currently collaborating with seven primary and secondary schools in Luxembourg to evaluate the feasibility of using Kniwwelino in the Luxembourg's classrooms.
The Kniwwelino board is available for purchase at Electronic-Shop.lu. The online visual programing is available at  http://code.kniwwelino.lu and the Kniwwelino Arduino library available on GitHub.
More information: https://www.kniwwelino.lu and http://doku.kniwwelino.lu/.
Funded by: FNR PSP BeeCreative4Kids (2016-2019), FNR Jump Pathfinder Kniwwel2B (2018), FNR Jump POC Kniw2S (2019-2020).
2015-2018 : BIM4VET
BIM4VET aims at promoting the coordination of BIM training offer in EU and raising awareness about the necessity to adopt a EU transparency of this offer. It consists in a first step towards a roadmap for European training curriculums.
As part of this project, we developed a tangible tabletop based prototype to support the recommendation of BIM trainings according to the available and required skills of a team.
Funded by: ERASMUS+ project BIM4VET (2015-2018).
2015-2018 : Microworlds on tangible tabletop interfaces
Within the scope of the ERASMUS+ project ReEngage and the H2020 Marie Curie IF Project GETUI, we have investigated how small Microworlds could be rapidly instantiated on a Tangible Table, with the aim to use them for pedagogical activities.
Funded by: ERASMUS+ project ReEngage (2015-2017), H2020 Marie Curie IF Project GETUI (2015-2018)
2014-2015 :Tangible simulation of climate change
In cooperation with CAPEL (Centre d'activités pédagogiques et de loisirs) from the city of Luxembourg, a TUI was co-designed to support children in understanding the impact of daily life decisions onto the CO2 emissions and the raise in temperature.
Funded by: LIST, CAPEL, Fonds National de la Recherche
2013-2015 :Tangible GIS
In 2013,  a first prototype has been developed, allowing the exploration of logistical infrastructure (e.g., roads, railway stations, airports, ports, …) on an interactive map. Via physical objects, users can manipulate the map, or activate different layers of information. This application has been developed within the scope of the INTERREG projects Weastflows, Lamilo and MUSIC and aims to support stakeholders in collaboratively taking decisions.
The prototype has been presented at the fair "transport and logistics 2013" in Munich (June 2013), as well as the fair ICT spring in Luxembourg (June 2013). From July – September 2013, it could be visited in the Ministry of Sustainable Development and Infrastructure.
Funded by: Interreg IVb Weastflows, Interreg IVb Lamilo, Interreg IVb MUSIC, Fonds National de la Recherche Luxembourg
2011-2013 : TUI-based assessment
In this application domain, the use of tangible tabletops for assessing 21st century skills, such as collaborative problem solving, is studied. In collaboration with the pupils of Lycée Technique d'Esch, two prototypes have been implemented and studied in empirical evaluations:
2011/2012: A simulation item requires users to understand the relations between parameters affecting the energy production of a windmill. Each tangible object represents another parameter, such as number of rotor blades, wind speed, or temperature. Through rotating the objects, users can increase or decrease the parameters and see the effects on a windmill animation, projected on the tabletop.
2012/2013: A second simulation item provides a more complex environment in the field of traffic using the implementation of Dresden University of Technology. Users can manipulate parameters, such as the maximum speed, the inflow of cars, or the amount of trucks in order to study the effect on the flow of cars and the eventually resulting traffic jams.
Funded by: Fonds national de la Recherche Luxembourg, CRP Henri Tudor
2006-2010: The MR-Tent
The MR Tent, a physical enclosing for a collection of MR prototyping tools, which can be used on the real site in an urban renewal process. The MR Tent provides a physical space with a table and several MR views of an urban site to help mixed groups of stakeholders collaboratively construct, explore and discuss their vision of a particular urban project. It was developed in a cooperation of Vienna University of Technology, Graz University of Technology and University of Applied Arts Vienna within the scope of EU funded project IPCity in 2006-2010.
You can find more information on http://www.icg.tugraz.at/project/ipcity/mrtent
2006-2010: The ColorTable
The ColorTable is a tangible tabletop supporting discussion and expression of different ideas around urban planning topics. It was developed at Vienna University of Technology within the scope of EU funded project IPCity in 2006-2010.
You can find more information on http://www.media.tuwien.ac.at/v.maquil/colortable.html